Where can I park for free in Milan?
If you've found this page while organizing your trip to Milan, then it's likely you have every intention of coming to Milan by car. In that case, we have to ask right away: Do you want to find a parking in Milan? If you've previously been researching where to park, you might have figured out that finding a parking space in Milan can get a bit difficult!
With almost 1.5 million inhabitants, Milan is the second most busiest city of Italy. Home to the largest Italian financial market, it's one of the fashion capitals of the world along with Paris, London, and New York, and is the only city in Italy to be recognized as a Global City.
Milan is a big city visited by many tourists from all over the world. For this reason, it can be quite hard to find affordable parking in or around the city. During the week and on the weekends driving around Milan can be stressful, but luckily Parclick has found a practical and convenient solution: Book a parking space in Milan online! By downloading our app or simply having a look at our website you will see that Parclick can help you find cheap parkings with special offers.
Here are some of our most popular parkings in Milan city center that are convenient and affordable:
Cheap car parks a little further away:
Better for longer stays:
Special offers:
| | | | |
| --- | --- | --- | --- |
| Car Park | Night Pass | Evening Pass | Weekend Pass |
| Autosilo San Marco Car Park | 12, 50 euros from 18:00pm-9:00am | 15 euros 18:00pm-3:00am | 29 euros for Friday at 14:00pm-Monday at 9:00am |
| Autosilo Diaz Car Park | 12, 50 euros for 18:00pm-9:00am | 15 euros for 18:00pm-3:00am | 29 euros for Friday at 14:00pm-Monday at 9:00am |
| Cenisio-Bullona Car Park | | | 45 euros for Friday at 14:00pm-Monday at 9:00am |
In case you are not coming to Milan to visit but in fact leaving the city to go on holiday or a business trip, you can also book long-term parking at the airport or near a train station with Parclick. Just tell us where you're starting your journey!
Park near the Milan airports:
Park near Milan's train stations:
More about that in a minute, but first, some practical information about driving in Milan and how to live to tell the tale ;)
Is it easy to drive in Milan?
Driving around Milan can be easy for those who are used to driving in Europe. Here in Milan, you can expect lots of traffic, one way roads and you also have to be cautious of parking rules throughout the city because most parking spaces you find will require payment. Not to worry! Parclick is here to give you the best car park option for you to drive into Milan and go straight to a car park, and avoid all the fuss in the city.
You also have to remember that there is a Limited Traffic Zone in Milan (ZTL). The Milan ZTL is formed by the now famous Area C, which has been active for several years throughout the center of Milan (inside the Cerchia dei Bastioni), and by Area B, active since 2019, which covers the whole city.
Area C can be accessed by purchasing a daily ticket for €5, whereas Area B depends on the type of car you have. Area B prohibits older, polluting vehicles from accessing and driving within the demarcated zone. It also has strict regulations that will increase year after year until reaching 100% decrease in pollution in 2030.
In any case, even if your vehicle can access Area B and you purchase the ticket for Area C to get to the center, you still might not find a free parking space. But here's where Parclick comes into play!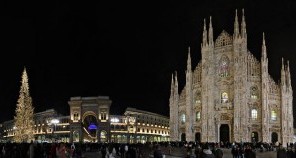 How do you pay for parking in Italy?
If parking on the street look for a park meter or any signs that might indicate how you need to pay for parking.
Before parking anywhere you might want to check the color of the lines on the street and make sure what each color means.
Yellow Lines: Parking areas reserved exclusively for residents of the area. Off limits for everyone else.

Blue Lines: Parking spaces with hourly payment where you pay for the ticket and display it. If you want to leave your car here, you can, but be prepared to go searching for a parking meter.
Thanks to Parclick, you won't have to drive around for hours looking for parking. With our Parclick app, you can book a parking space in Milan in advance! Parking in Area C or Area B will no longer be a problem; with your parking reservation in Milan you will be allowed to enter the zones to leave your vehicle in a safely monitored car park for as long as you need, hours, days, or even weeks. And the best part? You'll have a guaranteed parking space waiting for you. Parclick offers you the best car parks near the main points of interest of Milan, airports, train & bus stations, museums and events! This way, you can leave your car and walk to the main monuments and sights of the city.
What is there to do in Milan in 48 hours?
48 hours might not be enough for you to experience everything Milan has to offer but you can pick one of the many attractions the city has as it is full of places to discover, including monuments, museums, art galleries, theatres, and so on and so forth!
Main Landmarks
Among the can't-miss places in Milan we obviously have the city's famous cathedral, the Duomo of Milan, which stands in Piazza Duomo and is surrounded by other interesting places like the Galleria Vittorio Emanuele. Some of the city 's most famous shopping streets, such as Corso Vittorio Emanuele and Via Torino, can easily be reached from Piazza del Duomo. This is one of the fashion capitals of the world, so be prepared for shopping sprees!
While we're talking about shopping, we can't forget that just a few steps from Piazza Duomo is the so-called Quadrilatero della Moda, the Fashion district, where the streets are lined with boutiques of the most prestigious brands in the world.
From Piazza del Duomo, along Via Orefici and then Via Dante, you can also reach the Castello Sforzesco, behind which the great Parco Sempione opens up before you, ideal if you want to spend a day immersed in nature.
If you're an art lover, then you must see the Church of Santa Maria delle Grazie—Leonardo da Vinci's famous Last Supper hangs inside! Be sure to book your visit in advance since this is a popular spot.
Another Milan landmark you can't miss is the Basilica of Sant'Ambrogio, also located in the center of Milan.
Museums
We could talk about the museums in Milan for hours, but we'll just mention some of the most famous ones here:
Museum of Science and Technology

Museum of Natural History

MUDEC – Cultural Museum

Poldi Pezzoli Museum

Prada Foundation

Museum of the 20th Century

Royal Palace of Milan
And of course, the inimitable Pinacoteca di Brera! (Don't worry, we didn't forget it and its incredible paintings!)
Nightlife
If you're spending an evening in Milan the options are endless, but we'll give you a few tips on where to experience Milan's nightlife.
First of all, there's Corso Como. Located behind the modern Piazza Gae Aulenti, this area is frequented by VIPs and full of bars and clubs.
Another well-known area is Corso Sepione, where you can sip a cocktail while admiring the beautifully illuminated Arca della Pace. This arch is located at the entrance of Parco Sempione (opposite the Sforzesco Castle entrance).
One of the most iconic areas, day or night, is the trendy space between the Navigli canals and the Darsena. Along Naviglio Grande and Naviglio Pavese you will find plenty of restaurants, aperitif bars, regular bars, and clubs, but there are also corners with an ancient flavor, such as the Vicolo dei Lavandai. Not far from Milan's Navigli canals are Via Tortona and the pillars of San Lorenzo. The pillar ruins are located right in front of the Basilica of San Lorenzo Maggiore, which sits at the entrance of the Parco delle Basiliche. These famous pillars represent a meeting place for both day and night, for a drink, or even to enjoy a walk along Corso di Porta Ticinese.
Theatres
If you had a more cultured evening in mind, you can always go see a show, opera or musical in one of the many theatres in Milan. If you have a chance, check out the following:
Teatro alla Scala

Teatro dal Verme

Piccolo Theatre

National Theatre

Linearciak Theatre

Arcimboldi Theatre

Carcano Theatre
Now that we've given you some ideas for your trip, here's one more just in case you want to explore even further. If you choose a car park in the center of Milan, remember you can also reach other famous places in Milan by subway: From Porta Venezia to Corso Buenos Aires, from the Basilica of Sant'Eustorgio to the Indro Montanelli Gardens, from the Pirellone to the Guastalla, reaching up to the Idroscalo and the Fiera di Milano.
The icing on the cake? With Parclick even parking at the San Siro stadium will be child's play, so you'll never miss the kick-off of a Milan or Inter match!
Events
If we had to choose two events that are big and popular in Milan we would say it's:
Milan Fashion Week: Just like New York, Milan is also a world capital of fashion, and twice a year it hosts its world-famous Fashion Week, the most glamorous event of the season.

Milan Furniture Fair: In addition to fashion, Milan is also a city devoted to interior design! And all the major innovations of the sector are presented every year in April during the Salone del Mobile, the most important home-furnishing tradeshow in the world.
During these times of year, the city comes alive with events, concerts, shows, exhibitions, and parties that usually take place in the center of Milan but are also in areas like Isola and Tortona.
Thanks to Parclick, you will have the choice between the best parkings in Milan, whether it's long-term, near the Duomo, or inside Area C and Area B! You're just a couple of clicks away from having your guaranteed parking space in a monitored car park in Milan at the best price, what are you waiting for?!